Don't look so goddamned happy!
I'll just come out and say it.
I
hate
moving.
I hate it with the fiery passion of a thousand suns.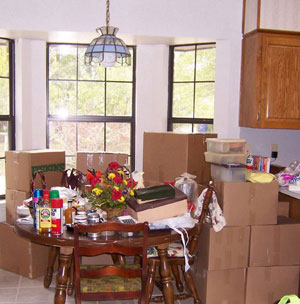 "Where are we going to eat?"
"Well, the floor has some empty space. Let me get the dog bowls."
What don't I like?
The displacement, the disorganization, packing and then unpacking, the living-out-of-suitcases and out of boxes, the whole finding-a-place-for-your-stuff process. Having to get to know your way around a new place and getting used to a whole new area when you have the sense of direction of a kid who's spun in a circle until they puke.
But there are some things I
do
like. I know, I know...you're skeptical; after all, the fiery passion of a thousand suns is quite a lot of hate. But hate is more directed at the moving
process
than anything else. When we find out we're being moved somewhere, I always get excited until I remember there's actual moving involved.
I love finding a great place for our little family to live...yes, I actually enjoy house hunting. My husband does, too, and it helps that we have similar tastes. I love that feeling when the house you moved into finally feels like a home. I love making new friends and enjoying their company. I love finding new places near our new home to go to enjoy ourselves: restaurants, parks, castles (yes, castles), beaches, etc. I love seeing parts of the country--hell, the
world
--that many people only dream of visiting.
Yep, this is pretty accurate. Only it's like this for 3 months.
Moving isn't nearly as bad as it was the first couple of times we did it; the more you do it, the more you get used to it, I guess. But, that doesn't stop me from dreaming of that day when we buy a house or some land to build on in our happy place, wherever that is, and settle in for the long haul. Then I will truly feel at home. Until then, I will be an explorer extraordinaire, even if that means moving. But, if any of you are working on a teleportation device, hurry up. I want to buy it, and I have some boxes you can pack it in.
xoxo Sarah