Okay, so I've given up with the "Part 7" or whatever in this series. It was too much to keep track of. But don't worry; I'll post the links to the other entries in this series at the end so you can check them out, and will continue to do so when I write each new
Awesome Writing in Media
post.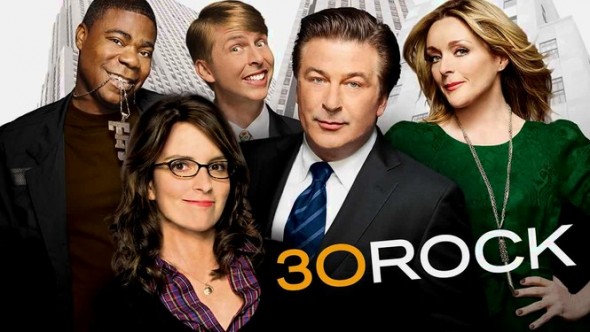 This post is about what I'm now pretty sure is my favoritist show EVER. I see you making that "Oh, really? EVER in shouty-caps, you say, Sarah?" face.
Yup. And I'm preemptively apologizing for the love letter that follows.
30 Rock
was created by (former) head-writer and occasional cast member of Saturday Night Live (and occasional Sarah Palin impersonator)
Tina Fey
. It's a satiric comedy loosely based on her time on SNL--30 Rock revolves around a fictionalized live sketch comedy show that airs on NBC. Fey also stars in the series as Liz Lemon.
Alec Baldwin
plays her arrogant conservative boss and mentor, Jack Donaghy, and
Tracy Morgan
and
Jane Krakowski
are featured as Tracy Jordan and Jenna Maroney, two of the actors on the show TGS with Tracy Jordan. Liz Lemon has to juggle them, TGS, and her personal life.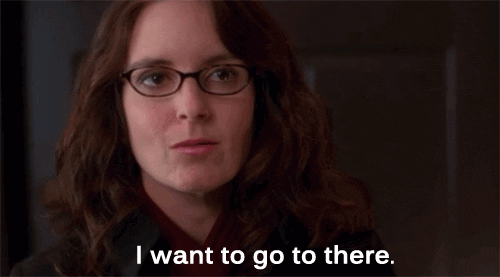 Anyway, I seriously don't know what was wrong with me but up until this summer I'd never seen more than a handful of episodes of
30 Rock
, and those were by accident. I'd enjoyed the ones I had seen, and since hubs and I needed something to break up the wall of concurrent episodes of Buffy and Angel we were watching, the timing was ideal.
Netflix came to the rescue, and soon we were partaking in 22ish minutes times 7 seasons of comedy gold.
The show, when it aired, was a hit with critics though it didn't garner huge ratings, but it was consistent and was renewed through seven seasons. Fans were hooked, and we were too.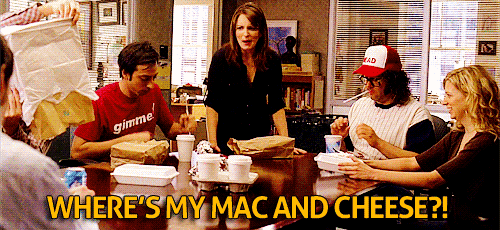 The writing is superb--there were very few episodes that fell flat, if at all. 30 Rock is a satire as I mentioned above, with its off-the-wall characters (a ridiculous in-house doctor with a just-as-ridiculous name, and a quite-possibly-immortal NBC page--seriously, go look up Kenneth fan theories...) and out-there concepts for episodes.
A few memorable episodes and/or story arcs:
Jenna is in a movie and no one can understand what she's saying when she says the title.
Liz has to travel, takes cold medicine, and hallucinates Oprah.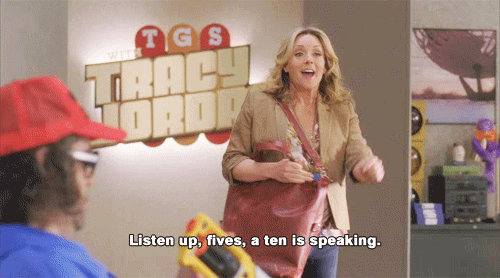 Jack finds out who his biological father is--and he happens to be a super-liberal professor from New Hampshire who also needs a kidney.
Liz keeps running into a man she can't stand and they end up dating because they can't get away from each other.
Jack insists there needs to be a new cast member for TGS, so he and Liz go to Georgia to connect with "real" America and scout talent.
Tracy finds out he's a descendant of Thomas Jefferson.
Jack's enormous cookie jar collection might cost him a chance at being the GE chairman.
Jenna is shooting a torture-horror movie in Connecticut, and the state says they have to make the movie more tourism-friendly.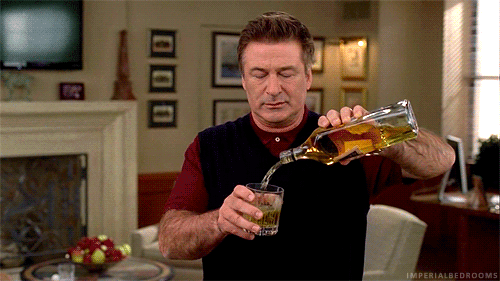 Liz is busy on Sandwich Day (a day when the Teamsters get sandwiches from a special super-secret deli for everyone), and someone eats her sandwich. The writing team tries to get her another one.
Jack gets married to a hot Fox News anchor who gets kidnapped by Kim Jong Il.
Tracy's wife gets a reality show.
Jack has to make an important decision, and meets future-Jack and past-Jack.
Jenna tries to get the lead in a Janis Joplin movie, but they don't have the rights to her life or any of her songs.
Liz's sketch, Dealbreakers, takes off, and she's offered a Dealbreakers talk show.
Jack has a perfect 24 hour period of solving problems, and Liz threatens his winning streak.
And many, many more.
I also discovered that Liz Lemon is my spirit animal. She's a writer, loves to eat, is delightfully nerdy,
and, best of all, my husband turned to me after watching an episode (I don't remember which one), and whispered, "She's YOU."
I almost forgot to mention that there are actually two live episodes (yes, they're also on Netflix).
The show is snarky and funny, entertaining, and absolutely worth bingeing in if you can.
Have you seen 30 Rock? Were you a fan? Let me know in the comments!
xoxo Sarah
~~~~~~~~~~~~~~~~~~~~~~~~~~~~~~~~~~~~~~~~~~~~~~~~~~~~~~~~~~~~~
Other posts in this series:
Joss Whedon
Quentin Tarantino
Horrible Bosses
Book of Mormon
Captain America: The Winter Soldier
Mad Max: Fury Road