Continuing on with the
Tina Fey
love-fest (Tina, if you're reading this, I
swear
I'm not stalking you), I couldn't resist posting a bit about one of my all-time favorite movies:
Mean Girls
.
This is one of those movies I'll happily sit through again and again, and it was actually everywhere this past weekend because October 3rd is, unofficially, "
Mean Girls
Day". It's from a line in the movie. The voice-over (done by Lindsay Lohan who plays Cady) is talking about a boy she has a crush on who is in her math class. I'll let the picture explain it: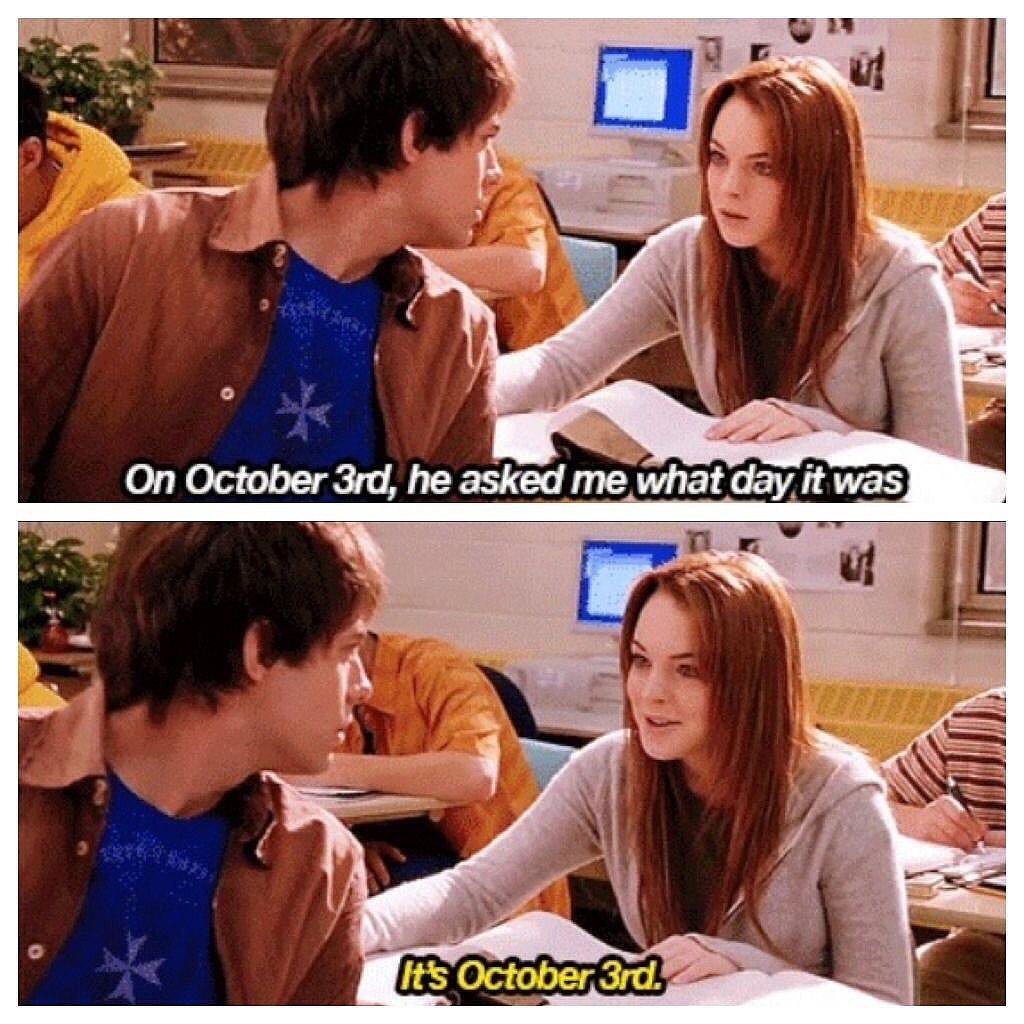 That's it in a nutshell. So, of course, the movie was on, and we watched it. For the record, my husband loves it too.
Mean Girls
is for everyone.
Quick summary: Cady Heron is the new girl at school after years of home-schooling and living in Africa with her academic parents. Unsure how to navigate teenage social norms, she befriends the "Plastics"--the queen bee clique--and a few misfit students who hate the Plastics and get Cady to spy on them. All goes well until Cady falls for the ex-boyfriend of Regina George, the Plastic's leader. But can she keep from becoming the kind of person she hates before it's too late?
One of the
most quotable movies of all-time
(no statistics; just because I said so), the writing (Fey did the screenplay, which is based on a book by Rosalind Wiseman) is sharp and on-point. It's a rare movie that can make you sympathize with the characters so much without becoming overly sentimental and mushy. Quite the opposite;
Mean Girls
is scathingly funny and clever. It's more than a collection of quotable one-liners; it's the writing in general that makes the movie so memorable.
It captures what it's like to be a teenage girl without jumping the shark (too much). We tag along with Cady as she tries to fit in at her new school, cringe when she makes social faux pas, and smile when she figures out how
she
fits in in her new life, for better or worse. Part of why it's so engaging is that we've all known people who remind us of the character archetypes: the new kid, the misfits, the queen bees, the put-upon teacher who believes in the students, the mom who goes to great lengths to be her kid's friend and not a parent, etc. We can revisit our own teenage years without actually having to suffer through them again.
And, despite coming out in 2004, the movie even ages well.
As a side-note, if someone tells you they don't want to watch it because Lindsay Lohan stars, they're missing out. Whatever her personal troubles, she's a good actress and shines in her role.
Are you a
Mean Girls
fan? What's your favorite line? C'mon, you know you have one. Share it in the comments!
xoxo Sarah
~~~~~~~~~~~~~~~~~~~~~~~~~~~~~~~~~~~~~~~~~~~~~~~~~~~~~~~~~~~~~
Other posts in this series:
Joss Whedon
Quentin Tarantino
Horrible Bosses
Book of Mormon
Captain America: The Winter Soldier
Mad Max: Fury Road
30 Rock