For the A-Z Blogging Challenge, I was going to do e-publishing, but I think I'll save that for a post on a regular day. So, my brave choice for the letter "E" is erotica.
Now, I know my parents read this, and I'm fairly certain my in-laws do, too.
Yep.
This should be interesting.
So, here goes.
What do most people think when they hear "erotica"? Written porn? A Madonna album from the early 90s? Something to be ashamed of; to hide under one's bed or in a drawer? Ridiculous euphemisms and innuendo, with words like "moist" and "throbbing" (words that, coincidently, make me thing of a dish sponge and a migraine)? Some book with an awkwardly hilarious cover with Fabio on it?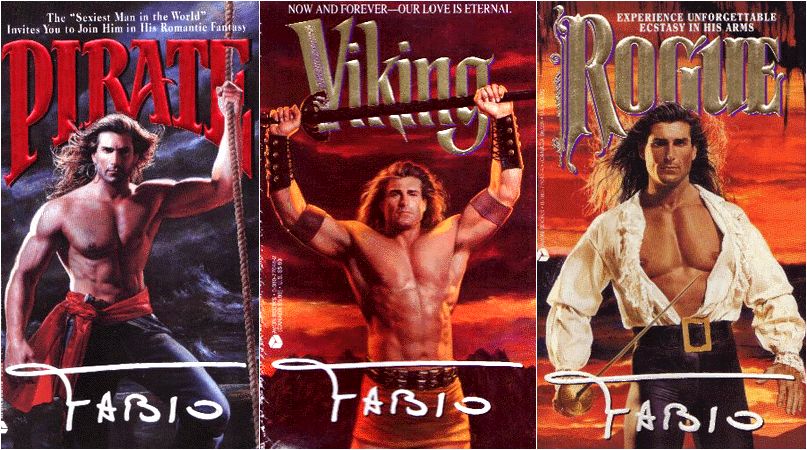 Yeah, go ahead. Have a giggle. I'll wait...
All set?
Well, don't be surprised to hear that, yes, erotica can be a lot of those things. Especially the embarrassing covers. But, in reality, it's so much more and nothing to be embarrassed about...your book club might even be reading it soon! More on that later...
Passionate Ink, the erotic romance special interest chapter of the Romance Writers of America organization (RWA, which I belong to), actually breaks down
erotic romance
into several categories. This chunk of the post is courtesy of their site (www.passionateink.org) and my awesome copy/paste skills:
The definition varies depending on who you ask, but Passionate Ink's co-founder Sylvia Day defines the varying "heat" levels in the following manner:
Porn: stories written for the express purpose of causing sexual titillation. Plot, character development, and romance are NOT primary to these stories. They are designed to sexually arouse the reader and nothing else.
Erotica: stories written about the sexual journey of the characters and how this impacts them as individuals. Emotion and character growth are important facets of a true erotic story. However, erotica is NOT designed to show the development of a romantic relationship, although it's not prohibited if the author chooses to explore romance. Happily Ever Afters are NOT an intrinsic part of erotica, though they can be included.
Erotic Romance: stories written about the development of a romantic relationship through sexual interaction. The sex is an inherent part of the story, character growth, and relationship development, and couldn't be removed without damaging the storyline. Happily Ever After is a REQUIREMENT to be an erotic romance.
Sexy Romance: stories written about the development of a romantic relationship that just happen to have more explicit sex. The sex is not an inherent part of the story, character growth, or relationship development, and it could easily be removed or "toned down" without damaging the storyline. Happily Ever After is a REQUIREMENT as this is basically a standard romance with hotter sex.
As you can see, a lot of the genre is subjective, and has a lot more criteria than just "heaving bosoms" and "turgid members." In fact, a HEA (happily ever after) is a requirement. So, as a reader, you get to have your cake and eat it, too. Or, at least have some fun with the frosting. *wink wink*
As a side note, having both read and written in this genre, the silly innuendo and descriptions are definitely a thing of the past, having moved to more graphic descriptions and language. Not a bad thing. Also, the covers are not what they used to be (see above, if you dare look again), moving to more monochromatic themes and a simple design and away from the nearly cartoony images that we associate with the genre. If I had to take a guess, I'd say this was because more men were reading them and didn't want to be caught dead with a book with Fabio in a cowboy outfit with his flowing locks waving in the wind on the cover. Or that women couldn't stop laughing long enough to actually open the things to read the stories to begin with...
This awesome article from the sexual health section of MSNBC.com
was sent to me by my husband, and the only thing in the body of the email besides the link was "Get writing!" The article itself is worth a read, but in a nutshell, erotica is gaining steam as a mainstream (and profitable) genre in literature. Big publishing hous
es like Random House, Penguin, Kensington, Simon and Schuster have their own erotica imprints (divisions that concentrate on one genre) and there are tons of e-publishers such as Samhain, Ellora's Cave, The Wild Rose Press, and many others who concentrate on this hot (pun definitely intended) genre. Publishers even have divisions within the divisions for erotica such as: historical, gay/lesbian, "older", etc. I know...I've checked.
There are even people who hold book club meetings (online and in homes) for erotic literature. Imagine being invited to a book club meeting by a good friend.
"Sure, I'll come. What are you reading?" you say, expecting to hear something like Water for Elephants.
"Great! This month's selection is Candy Licker by Noire. We'll meet next Thursday at seven. Bring an appetizer or dessert to share!"
The whole idea of the reality of this interaction makes me smile, and not just because it's one of the genres I write in. I like how people are becoming more open about it, and that's good for literature in every genre. Kind of like how good Oprah's Book Club was for...well...everything she recommended.
Speaking of which, I wonder what the big "O"'s nightstand has stacked on it...
As an exciting side-note, I updated the tab above that's labeled "Novellas and Short Stories."
xoxo Sarah